A trip to Barcelona is incomplete without a visit to Gaudí's awe-inspiring architectural masterpieces. But, rather than simply admiring his remarkable mosaic craftsmanship, learn the art of the revolutionary trencadís technique for yourself at Mosaiccos. Angelika Heinbach, the artful mastermind behind these ingenious workshops, not only reveals the secrets of Gaudí's impressive artwork but also teaches you how to recreate replicas of his vibrant designs.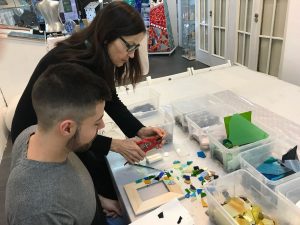 Located in the heart of El Born lies Angelika's mosaic workspace-cum-shop, laden with Angelika's spectacular handmade creations. From a giant seahorse, composed of various cyan toned tiles, to an imposing obelisk-like structure in the entrance, draw inspiration from her colourful collection of pieces, before taking to the trencadís technique yourself. Alternatively, browse her selection of smaller mosaic marvels – mirrors, frames, boxes and jewellery – to find the ideal Barcelona souvenir for your loved ones back home.
Welcoming art newbies and experts alike, Mosaiccos has classes and courses to suit all levels and interests. Whether you are simply a family looking to create lifelong memories whilst scrubbing up on your tiling skills, or an advanced student looking to enhance your mosaic abilities, Angelika's extensive range of workshops offer diversity and flexibility. For tourists holidaying in the Catalan capital, their 'Experience Gaudí' class is highly recommended, and perfect for both adults and children eager to learn this unique craft, beloved by the city. Various colourful tiles will be presented to you, to carve and whittle into something beautiful, under the careful guidance and expertise of Angelika.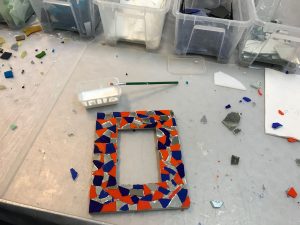 Amongst its many assets, Mosaiccos welcomes guests from around the world, thanks to its multi-language team. Whatever your mother tongue may be – Spanish, English, German, French – rest assured, as Angelika ensures that language barriers do not hinder creative flow. Why? Because creativity has a language of its own!