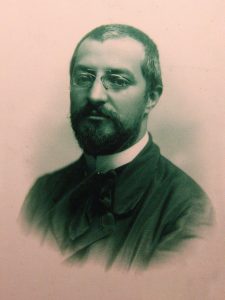 This emblematic Modernist building was constructed in 1905 for the Terradas family by the prestigious architect Josep Puig i Cadafalch (1687-1956). Born in the Catalan town of Manresa, Puig i Cadafalch participated extensively in Barcelona's architectural Modernist movement alongside notable luminaries such as Antoni Gaudí (whose works include Casa Batlló, La Pedrera and Park Güell) and Domènech i Muntaner (Palau de la Música Catalana, Hospital de Sant Pau).  His passions were architecture, historical scholarship and politics, which he pursued with dedication and depth.
A visit to the Casa de les Punxes reveals a unique structure built in a Medieval castle style, reminiscent of Northern Europe, with its dreamy turrets and a fairytale demeanour. It resonates with the late 19th and early 20th century Modernist reality of an emerging bourgeoisie on the leading edge of industrialisation. This was an era when Catalan industries were booming, and the wealthy industrialists at the helm sought to consolidate their status by commissioning leading architects to build them a magnificent family home.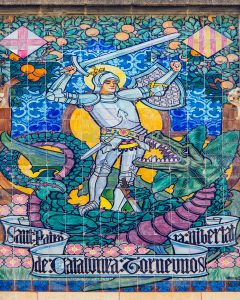 Casa de les Punxes was designed for the three Terradas sisters, who each had their own independent apartment below its emblematic turrets. It was opened to the public for the first time in summer 2016. The Noble Floor area, former residence of Angela Terradas, is infused with the legendary story of St Jordi, patron saint of Catalonia. Ceramic tiles depict the brave knight's battle against the archetypal dragon in an especially masterful example of Modernist ceramic art.
Video and animation are skilfully interwoven throughout the visit to provide a powerful multi-media narrative that accompanies the visceral experience evoked by the building itself. Both entertaining and educational, a tour of Casa de les Punxes is an invitation to step into a realm where myth and history are seamlessly interwoven into an experience which is sure to be a highlight of your visit to Barcelona. Another breathtaking detail is the view from the roof terrace, a majestic 600m2 space which offers a privileged panoramic gaze across the city centre.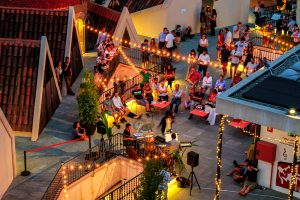 The terrace comes to life in the summer evenings, with a special program of Nights with Rhythm every Friday from the 22nd June – 31st August. Guests are invited to explore the exhibition area on the first floor from 19:00- 20:00, to discover the history and symbolism of one of the most emblematic Modernist houses in Catalonia. A complimentary glass of cava is offered, and concerts take place from 21:00 with talented jazz, swing, bosanova and soul musicians. You can consult the full program here.
Casa de les Punxes is open every day from 9:00h – 20:00 (last entry is at 19:00)
Address: Av. Diagonal, 420
Visit their website and book your tickets online today!