Although Carrer dels Tallers is often seen as the connection between El Raval and El Gótico, running from La Rambla to Plaça de la Universitat, this beautiful street is seldom crowded by tourists and is full of great vintage and independent shops, restaurants and bars, and nice spots to chill out.
Quite a small and at times narrow street, it only measures a couple of hundred metres in length, but not to worry as it has something for everyone here. Whether you're just crossing between El Raval and El Gótico, or coming for a meal or some shopping, this charming and delightful street will certainly leave an impression on you.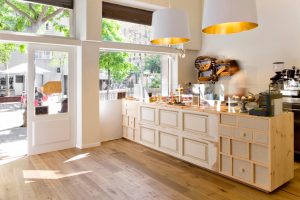 Cup & Cake
This charming little café is one of a few owned by the same company across Barcelona. They have a great philosophy here, putting love and the utmost care into every product they sell, only offering the products they love themselves. They do everything the way of their grandmothers – completely by hand and cooking at a low heat. This honest and cute little spot uses the best ecological products available and, when possible, locally sourced products. The coffee here is also great so make sure to grab one to wash down your cupcake.
Carrer de Tallers 79, 08001, Barcelona; Metro – Catalunya (L1, L3); open Monday – Friday 10:30am – 9pm, Saturday & Sunday 11am – 9pm.
Discos Revolver
This record store has been open since 1991 and is situated in El Raval. The owners have 25 years of experience in the music industry and it was one of the first independent record stores to open in Barcelona. They have a great selection of music mainly concentrated on punk, grunge, heavy metal, rock 'n' roll, but also have a few stacks of indie and electronic. They're not just about records though, as you will find a large quantity of merchandise to go with new and second hand records and CDs.
Carrer dels Tallers 13, 08001, Barcelona; Metro – Catalunya (L1, L3); open Monday – Sunday 10am – 9pm; Sundays closed.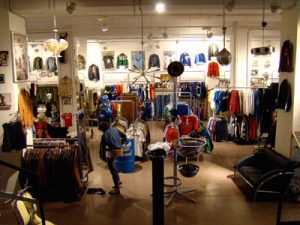 Holala!
This vintage shop is perfect. Open since 1972, the owners hand pick their stock from the United States, Japan and Europe, and with stores in both Barcelona and Ibiza they have been doing very well. Offering more than just clothing, they have a lot of vintage furniture, perfect for today's hip youth of Barcelona. Their slogan "Unique clothing for unique people" could not be truer as the originality and exclusivity of their clothes is difficult to match in Barcelona.
Plaça de Castilla 2, 08001, Barcelona; Metro – Catalunya (L1, L3); open Monday to Saturday 11am – 9pm; Sundays closed.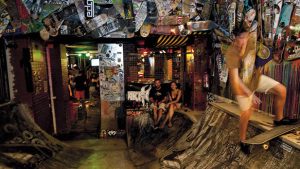 Nevermind
Still run by the same people since its move from El Gótico, this sick skater bar offers reasonably priced – and very strong – drinks, as well as really noisy music all the time. Usually playing, punk, rock and metal, they have even got a slick little skate ramp inside. A great hang-out for young people living in Barcelona.
Carrer dels Tallers 78, 08001, Barcelona; Metro – Catalunya (L1, L3); open Monday – Thursday, and Sunday 5pm – 2:30am; Friday and Saturday 5pm – 3am.
Plaça de Castella (featured image)
The perfect spot on Carrer dels Tallers to kick back with a cold beer or a glass of wine on a lovely summer's afternoon in Barcelona. It has a couple of cafés and bars with tables and chairs in the square, or if you prefer you can sit on the grass in the sun and gaze up at the beautiful church which overlooks the plaça (Parroquia de Sant Pere Nolasc Mercedarios).