If you like the El Born neighbourhood, you'll like it even more this weekend as it will hold the Born Street Food Barcelona Festival 2019, a gastronomic festival in the Plaza Pla de Palau, from 14 to June 16.
Street food is becoming more and more successful in Barcelona. One of the best examples of this success is Born Street Food: a gastronomic project organised by the association Barcelona Born Gourmet, made up of some of the best restaurants in the neighbourhood and their chefs such as Oriol Rovira, Fermí Puig, Ramon Parellada, Joan Bagur, José Varela, Francisco Heras, and Iñaki López de Viñaspre.
Participating restaurants
After great reviews from last year, the Born Street Food Festival is back once more  for a gastronomic outdoor market "unique to Barcelona with chefs transferring their kitchens to the street with live cooking shows", explained Iñaki López de Viñaspre, chef and Sagardi manager.
Some of the participating restaurants are: Oaxaca, Tapeo, 1881 per Sagardí, Orio Gastronomía Vasca, Bodega Vidrios y Cristales, Llamber, Confraria de Pescadors, Euskal Etxea, among many others!
Barcelona Born Gourmet
Barcelona Born Gourmet (BBG) is a gastronomic project that was created to showcase the quality restaurants of the El Born area, the former place of the old market hall and economic hub of Barcelona from the 13th to the 15th century.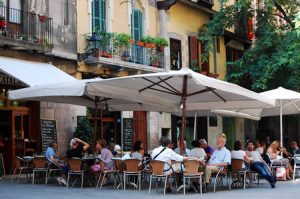 López de Viñaspre declared that "projects like Born Street Food aim to preserve  culinary creativity". He recognized that it is now difficult to fight against a "mediocrity invasion" of massive tourism in Barcelona. According to him, "la Rambla is a losing battle, now followed by the Gothic quarter. But el Born tries its best to avoid it."
For the occasion, the chefs from each participating restaurant will cook delicious dishes such as: "mar y montaña" rice (Sagardí); a grilled beef steak sandwich with piquillo peppers (Sagardi); Bonito from Hondarribia marmitako (Orio Gastronomía Vasca); cochinita pibil taco (Oaxaca); Pulled Pork (PORK boig per tu); sardines (Euskal Etxea); "papas aliñas with harangue" (Bodega Vidrios y Cristales), Iberian pork ribs with honey and mustard (Tapeo); morcilla de Burgos with baby squid, (Llamber); fry of blue fish and dogfish in adobo (Confraria de Pescadors).
If you are in Barcelona for a couple of days only, do not miss out on the opportunity to stroll around this neighbourhood, one of the most beautiful areas in the city.
Born Street Food runs from Friday 14 until Sunday 16, between noon and midnight each day.
To find out more about Barcelona Born Gourmet and discover the city's best gourmet corners, download the smartphone application and visit their website.