Whether you are visiting Barcelona for a short or long time, the coastline of the Catalyuna region has an incredible 114 blue flag beaches, and from Barcelona its super easy to get to some of the best luxury beaches the region has to offer, from as little as €6 on the train. Check out our top five and start planning your perfect day trip out of the city.
Tarragona, Playa del Miracle


Getting there: The Renfe Express from Barcelona Sants
Tarragona is a little further afield, but perfect for an all inclusive day out, the town has lots on offer; their very own mini La Rambla is lined with shops and markets over the weekends, with plenty of restaurants and a port to explore Tarragona offers the perfect day trip. It takes about an hour and twenty minutes on the train to get to Tarragona, but the journey alone down the coast is worth that little bit longer, the train track runs parallel to the sea front, giving you stunning views of the bluest sea and sandy shores. Tarragona's beach is small but nonetheless beautiful and with lots of other things to do in the city a visit is definitely recommended.
Montgart Nord
Getting there: get the Rodalies de Renfe from Arc De Triomf
Perhaps the closest beach to Barcelona, Montgart Nord is just a 25 minute train ride from Placa Catalunya costing only €6! The beach, north-east of Barcelona is a hefty 14 kilometres long; less crowded and commercial, Montgard Nord offers a quieter getaway with clear waters and plenty of room to enjoy the summer sun.
Platja de Sant Sebastià
Getting there: Rodalises de Renfe train from Barcelona Sants
This gorgeous beach which is between the old town and the port in Sitges is just 30 minutes away from Barcelona by train and is the perfect destination for a weekend day out away  from the sometimes overcrowded beach of Barcelona. Situated in a fisherman's neighbourhood this family beach is teaming with locals and is over 200 metres long. The beach offers gorgeous views of the coastline and has a beautiful backdrop of the old town.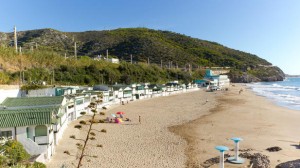 Les casetes del Garraf
Getting there: Take the Rodalies de Renfe to the Garraf station.
This gorgeous sandy beach is 380 meters long, the beach is practically on the fishing village itself which gave the area its name. Lined with wooden cabins which used to be used by the fisherman themselves, they can now be used by beach goers and locals. The town has lots of restaurants and hotels on offer incase you wanted to extend your stay, but just 35 minutes away on the train its equally as easy to spend just a day.
Platja de Sant Simó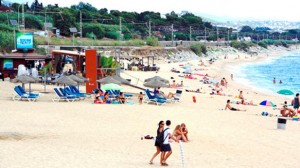 Getting there: Rodalies de Renfe to Mataro
Just 55 minutes north of Barcelona, the beach lies between the town of Sant Adreu de Llavaneres and the riverbed of Sant Simo, it's a gorgeous white sandy beach over 1,100 metres long. Its picturesque rocky backdrop makes for some fab photos and it really has something for everyone. Separated up into zones, the family zone has lots of great facilities on offer such as showers and snack bars, but a bit further up remains more of an authentic experience where beach goers can even try out some snorkelling.