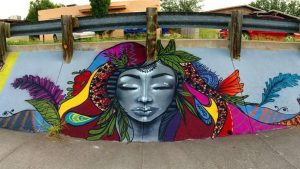 Barcelona Connect has been an admirer of Harriet Wood's work for quite some time now. But don't just take our word for it… Young Miss Wood is credited as being one of the top 5 female graffiti artists in the UK by the Guardian newspaper, and one of the top 25 in the world by the Huffington Post.
Based here in Barcelona and better known in the urban art community as Hazard, her work is prominent throughout the city. She regularly displays work at the Jardines de les Tres Xemeneies.
Harriet is not only a famous name on the global graffiti art scene, she is also a superb digital graphic designer, print illustrator for T-shirts, does album artwork and poster design whilst also finding the time to teach both Urban and Fine Art in between her projects.
Hazard's work takes her around the world with regular projects at the Glastonbury Festival and has also worked on projects in Bristol, London, York, Leeds, Aberdeen, Barcelona, Nice, Toulouse, Amsterdam, Berlin, Gdansk and Tucson Arizona.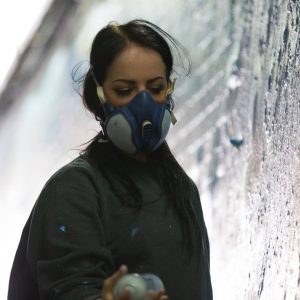 "The most rewarding aspect of my work is being involved with the communities in which I create artwork," said Harriet.
"My experience as an Urban Art tutor also means that I am able to share my skills and teach a variety of different groups from school children to seniors, students with disabilities and learning difficulties, individuals classed as NEET to young offenders, and alongside arts organisations such as the The Prince's Trust, Creative Youth Network and several UK City Councils," she added.
Hazard's next project is particularly exciting and helps to open up national and international dialogue through community art. Next March she is planning another visit to Arizona to assist in a street art mural project on the border region. She has launched a Kickstarter campaign as a call to action to help raise funds in order for her to contribute to a community arts project in the border town of Ajo, Arizona.
"The fundraiser is to help me gather the amount needed to travel to Ajo and take part in the Street Art Mural Project on the border region of Arizona in March 2017," Harriet told us. "It's not a revenue generator for me personally, so if I don't raise the full amount, then the project is a non-starter. A sad, but true fact of life unfortunately," she added.
"The aim is to provide Ajo with artists to occupy and decorate the buildings situated in this unique place in the Sonoran Desert to promote socially engaged practice and community based arts. Using street art to enhance the surroundings, it provides an opportunity for public interaction and community conversation," she stated.
Now more prominent than ever, the project – a coming together of artists, diverse in culture, disciplines and practice – started on the intersection of three nations, the United States, the Tohono O'odham Nation and Mexico.
The fundraising goal is €3500 (£3000).  The funds cover all the logistical costs and equipment costs to enable Hazard to create a huge hand painted mural in Ajo, Arizona in March 2017.  Readers can help her achieve this vision here.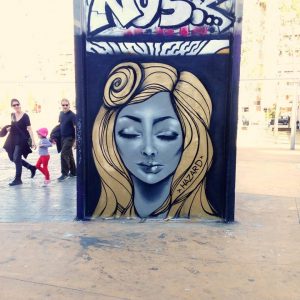 More on Harriet Wood aka Hazard:
She Tweets at @hazard0ne