Gaudí: Genius or Madman
When Gaudí graduated in 1878 from Barcelona's School of Architecture, its director announced: "Gentlemen, we are here today in the presence of either a genius or a madman." Which was it? Experience Gaudí's architecture and decide for yourself.
Have you visited all of Gaudí's masterpieces?
1. La Sagrada Familia
The world's only Modernist basilica. Admire the incredible details.
2. Casa Milà
Nicknamed "La Pedrera," or the stone quarry. Visit the colourful chimneys on the roof.
3. Palau Güell
Güell's city residence. Check out the stables on the ground floor.
4. Casa Batlló
Unique house on Passeig de Gràcia. Can you see the skull shape in the façade?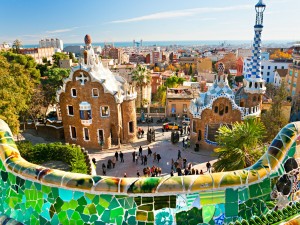 5. Park Güell
Its mosaic dragon is a symbol of Barcelona. Enjoy live music and great views here.
6. Casa Vicens
Colourful tiles in an Arabic Mudejar style. Look out for the Medieval grills.
7. The Crypt of Colonia Güell
Outside Barcelona and worth the trip. Decipher the symbolic mosaics.
 Did you know?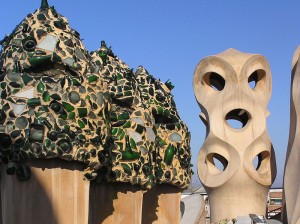 Modernism
* The Modernist movement took place at the turn of the 20th century and left a huge impact on Barcelona.
* All of the 9 UNESCO World Heritage sites are Modernist buildings, 7 by Antoni Gaudí (1852-1926) and 2 by Domènech I Montaner (1850-1923).
* The full Modernist Route through Barcelona has 115 stops, which also include lamp -posts, chemists shops and bakeries.
Dragon's breath
Park Güell is not just an artistic reference in the city, it is also a spectacular feat of engineering.The water trickling out of the dragon's mouth is part of an ecological system that collects 2,600 gallons of water. This is stored during the rainy months and is used as part of an intricate watering system that circulates through the grounds and keeps the whole park looking fresh all year round.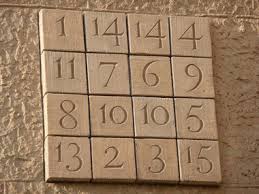 Magic numerology
Gaudí was a master of esoteric symbolism and sacred geometry, which he subtly incorporated into all his most famous works. A particularly intriguing example is the Magic Square on the Sagrada Familia. All the lines, horizontal, vertical and diagonal add up to 33, as do the 4 squares on the corners, the central square, and others. Why 33? This is the age at which Jesus was said to have died.
Decipher the Casa Batlló with new 3D imagery
Casa Batlló has just launched a new video guide which offers transformational insights into Gaudí's world of dreams and fantasy, through virtual reality surroundings and 3D animation. This innovative technology brings you closer to the architect's symbolic language and extraordinary imagination, and evokes new experiences of Casa Batlló's hidden secrets.