City breaks can be exhausting – trekking around the tourist trail on your feet all day and making your way from A to B in an organised fashion, so not to miss any key sights. What's more, travelling without a tour guide can leave you feeling frustrated that you're not maximising your urban adventure. Whilst independent travel provides you with freedom and flexibility, the perks of having a tour guide are second to none. With Barcelona Highlights Tour, you will witness Gaudí's awe-inspiring architecture and the breathtaking natural beauty of Montjuic hill, in the hands of an experienced and knowledgeable tourist guide. Their spacious and air-conditioned private bus means that you can cruise from sight to sight with comfort and ease, as your guide explains the fascinating history of the Catalan capital's most iconic spots.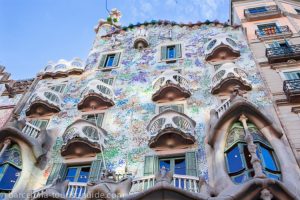 The grand tour begins at the heart of the city, in the central and easily located Plaça Catalunya. Its plethora of shops, restaurants and hordes of people make this bustling hub well worth exploring before hopping on board, to begin your city excursion. Only a stone's throw away is Passeig de Gràcia – an impressive showcase of modernist architecture and home to many exclusive brands. This elegant avenue is internationally renowned for its outstanding architectural offerings of Gaudí; La Pedrera and Casa Batlló. The magnificent façades of these buildings will give you a newfound appreciation for artful talent with their imaginative design, ingenious colour palette and intricate detail.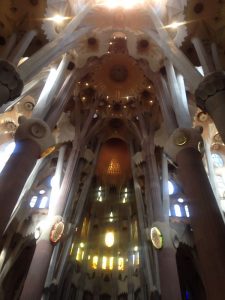 To continue your Gaudí education, the first point of call is Barcelona's emblematic church, the Sagrada Família. Unique in its style and construction, this 135-year (and counting!) labour of love is a spectacle of tremendous beauty, and a must for all visitors to the city. As you marvel at its majestic interior and beautiful stained glass windows, your specialised guide will walk you through the enthralling history and evolution of this masterpiece, giving you a full insight into Gaudí's artistic universe. Following a comprehensive tour, you will be given free time to mosey around the basilica yourselves before the next leg of the tour begins.
A pleasant drive along Barcelona's waterfront means that you can say a quick hello to the Columbus monument, and head towards the stunning hills of Montjuïc. With its myriad of attractions from the Fundació Miró museum to the Olympic Ring, the jewel in its crown is the Museu Nacional d'Art de Catalunya (MNAC). This privileged platform boasts panoramic views of the city, and not to mention the idyllic spot to capture that all important Instagram. You will be given the opportunity to explore the local surrounding area, however it is well worth returning to this point to check out the museum itself. Housing a mind-blowing one thousand years of art, the MNAC embraces an extensive selection of artefacts, spanning from symbolic paintings and drawings to delicate engravings and sculptures.

The tour of Montjuic's picturesque landscape will conclude with a visit to Poble Espanyol – one of the city's most unique and popular attractions, despite its seemingly odd concept. It resembles a quintessential Spanish village with replicas of 117 real-life scale buildings from various regions in Spain. Your tour guide will take you around this charming village, allowing you to admire the richness of Iberian heritage. Its exhibition of local gastronomy, traditions, art and architecture is simply astounding, and one of the peaceful café terraces are a pleasant setting to enjoy a typical Spanish lunch of paella or tapas after your tour. It truly allows you to soak up Mediterranean culture in its entirety- who knew you'd be able to see the whole of Spain with one quick trip to Barcelona!