The name Barcelona Cooking does not give full justice to the range of extensive options available with this company. Not only can you learn how to prepare and cook various traditional Spanish foods, including paella, tapas and tortilla, but you can also choose to include a tour to La Boqueria market, additional wine tasting, and they even cater for private events and corporate team building activities. There truly is a class for everyone here, whether you speak English, Spanish or even Russian, Barcelona Cooking can cater for your every need.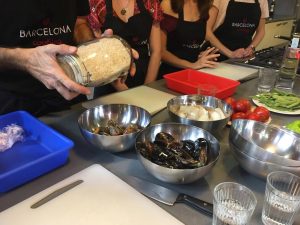 Barcelona Cooking founder Cándido Cid is one of four chefs who run the classes split between two different kitchens. The location could not be easier for the majority of tourists, as it is situated on La Rambla, just off Carrer de Ferran – the road connecting Jaume square with the main strip in the Catalan capital. This also means that the upstairs kitchens offer unrivalled views of the busy street below, and you can learn about Catalan cuisine in the very heart of the region's bustling capital.
The Spanish cooking class is a favourite choice and runs six out of seven evenings of the week, plus most mornings too. It consists of a four-course meal that is prepared from scratch over three hours, with the instructing chef providing guidance throughout, but ultimately letting the pupils cook the food themselves. The menu is updated according to the time of year, in order to include the freshest and most seasonal ingredients. It always consists of a starter, an appetiser, a classic paella and a dessert (although any dietary requirements are of course taken into consideration and altered as required).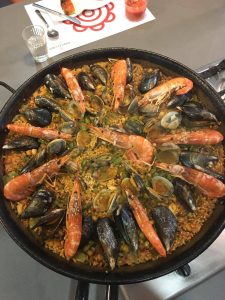 One of the best aspects of Barcelona Cooking is that they are all about inclusivity. After the initial briefing, everyone is expected to lend a hand and help prepare some part of the meal. Every detail of the preparation process is explained and demonstrated so that people of all abilities are able to contribute without any difficulty. More accomplished cooks will no doubt still have much to learn from seasoned pros such as Cándido Cid, and unusual ingredients such as cuttlefish may present a new and welcome challenge. For those with less experience, the chef is always there to lend a helping hand, offer advice, and answer any questions.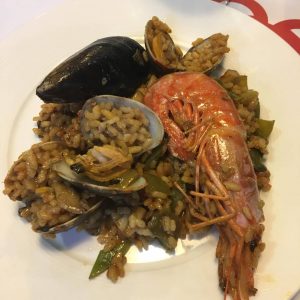 For obvious reasons, wine is poured for everyone after the chopping phase is over and the knives are safely deposited in a box. From this point in the evening, the pupils can help themselves to carefully selected beverages, although the cooking is by no means over yet. Cándido will keep you busy with various duties interrupted by short breaks for traditional Catalan methods of preparing particular courses to be revealed and then tried out. In this way, you will learn the ins and outs of preparing a Mediterranean feast, the recipe for which is emailed to every participant before the session so you can impress your friends and family at your next dinner party.
The last phases of cooking are predominantly decorative, in order to best present the restaurant-worthy dinner you have helped create. Finally, everyone is served generous portions of the Spanish banquet accompanied by more wine (and/or soft drinks for the children and teetotallers). Unlike cooking at home, there is no washing up to do, simply sit back and enjoy the hard-earned fruits of your own labour!