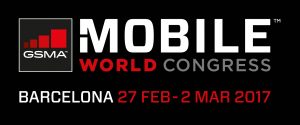 Quite a while ago, what is now known as the Mobile World Congress (MWC) used to be called 3GSM and took place in Cannes. A truly grand gathering of key decision-makers, pioneers and thought leaders in mobile telecommunications and Internet technology, discussing the sector's future.
They considered next generation mobile broadband, always on and interconnected, way before Wi-Fi (pronounced 'we fee' here) even existed. In fact, getting a mobile broadband signal meant connecting a laptop to a mobile/WAP phone – without moving – in order to read an email!
The Global System for Mobile Communications Association (GSMA) relocated the event to Barcelona in 2006. The city has since won the tender to host MWC until at least 2023 from the show organisers in 2015. The congress in 2017 is a gargantuan event dominating all of La Fira's floor space in the city and attracting an attendance of more than 100,000 telecommunications, media and technology executives… and is the largest carbon neutral event of its kind.
Barcelona Connect caught up with Justin Springham, managing editor at the GSMA's daily news service at his HQ in London to find out what will feature at this year's event.
"When I first started attending the event in Cannes at the turn of the millennium it was all about the nuts and bolts of networks. So over the years it's been fascinating to see growth in the numbers of attendees from outside the 'traditional' mobile sector – today MWC attracts vertical industries like automobile, finance, health and media," Justin told us.
"It's also been good to see a better balance of male to female attendees in the last couple of years. The profile of women in technology is definitely higher than it was just two or three years ago."
"This year I'm expecting to see a lot of talk about Artificial Intelligence (AI) and the early success of 'intelligent assistants' such as Amazon's Alexa. The voice-activated service is rolling out across a number of products and finally we're starting to see the concept of the 'smart home' become reality. "
"VR was big at MWC last year and I'm sure we'll see more cool demos, but the question is whether the technology can appeal to a wide range of consumers. I'm hoping we'll see some self-driving cars in action and how mobile is helping power that connectivity."
"Also, there will be the usual glitzy device launches. It'll be particularly interesting to see how the industry reacts to the return of the Nokia brand. 5G will be a buzzword, there won't be much real progress here – the standards aren't going to be finalised until next year, so right now nobody knows exactly what 5G is," added Springham.
Clearly the event has significant stress on the city, but also brings good fortune. It's not just about the week long event. There is a large operation before the event to set-up, and after, to close it all down… over 400,000 square metres of exhibition space!
"The economic impact of hosting MWC is clearly a major benefit to the city. When you've got 100,000+ business execs arriving for a week every February it's going to be a huge test of the city's hotel and transport services. But Barcelona always seems to be hugely popular with attendees and is keen to impress," said Justin.
MWC is an important business gathering also known for its ferocious 'work hard play hard' ethos. Beginning on the stands in the exhibition halls in the evening until congress closing time, the light refreshments and schmoozing will normally end up at various locations in the city for both official and off-congress events.
"There are some great restaurants and bars in the city. Pipa – which used to be a cigar club long ago – just off Plaça Reial, but it's not easy to find. Despite being close to one of the tourist parts of BCN it's still something of a 'secret,' with a buzzer on a nondescript doorway in a corner of the square."
"Not too far away at the top of Las Ramblas is Boadas, claimed to be the oldest cocktail bar in the city (its décor reminds me of the 1920s hotel bar in The Shining). It's just a good, fun bar with live music.  There are too many quality restaurants to provide an exhaustive list, but Els Quatre Gats is a regular visit for us each MWC, as is L'Academia and El Gran Café," said Justin.
One week to go, and the city is already filling up ready for the big show to begin.  The Mobile World Congress kicks-off on February 23 and runs to March 2.
Here's the official show preview from Justin's Department.