Enjoy 110 different tapas and 646 different beers at the Barcelona Beer Festival! Every year the Centre d'activitats de la Farga de L'Hospitalet de Llobregat is filled for 3 days with eager beer lovers. Join over 30,000 participants in the celebration of good craft beers along with all your favorite tapas.
Barcelona Beer Festival: General Information
The festival takes place from March 13-15. Don't miss this sensory experience right here in Barcelona! Immerse yourself in the different tastes and smells of Barcelona while you listen to live music and watch performances by local theatrical groups. You can also take advantage of the beer informers at this festival to ensure you grab something you will enjoy or take a risk and try something new.
Brands
There will be an abundance of food trucks at the festival such as: The Big Whim, Chivou´s, Mosquito, Nomad Cafe, Machete and Masala 73. You will also find all of your favorite breweries within the festival such as: Fábrica Moritz, Gletcher, La Virgen, Brewdog and more. There will be a 3 hour period where you can meet some of the brewers and taste some of their newest creations. Talk to brewers from the Brew Division, Ayinger, Our Beersel, Soma Beer and others.
Opening Hours and Prices
The festival opens at 11h on Friday and closes at 23h until Sunday when it closes at 21h. Come for 1 day or all 3, the various ticket options are available now! Each entry fee ticket comes with a glass to fill with beer and several coins or tokens that you can use to buy food or beer, but once inside you may quickly run out so more tokens can be purchased for 1 euro each.
Activities
Ticket holders also have the option to register for various activities during the festival. For visitors with BBF Pro and BBF Experience tickets there is a cellar activity where you can try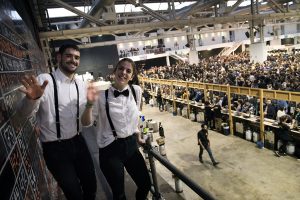 exclusive bottles of beer. There is also a cornhole activity and a homebrewing station where you can feel the raw materials and learn how to produce your own beer. Bringing your children to the festival? No problem! There will be a kids area on Saturday and Sunday where kids can play and be looked after by trained educators. Are you a brewer yourself? Join in on the festival and meet other brewers or participate in the Barcelona Beer Challenge. Whether you are a professional brewer or just a professional drinker, everyone can enjoy this festival.
Transportation
The festival is at Carrer de Barcelona, 2, 08901 L'Hospitalet de Llobregat, Barcelona. You can get here by taking the railway to FGC: Sant Josep or L'Hospitalet Avinguda Carrilet. Another option is to take the metro, you can take the L1 to Rambla Just Oliveres. Barcelona is also a very walkable city, so depending on where you are coming from, you may even be able to have an enjoyable walk to and from the festival!
Accomodation
Looking for accommodations for the festival? AB Apartment Barcelona has several short term apartment options in Sants and Les Corts, some of which have been recently renovated! Our Sants and Les Corts apartments are all in the same area as the festival, making it easy for you to get back and forth. Our apartments in these areas range in prices and some can accommodate up to 8 guests.
Another unique aspect of this beer festival is every year the festival features an exclusive beer from a brewery of their choice. Don't forget to try this year's beer the Baltique Porter made by Les Trois Mousquetaires! The Barcelona Beer Festival is an enjoyable event for couples or groups of friends to enjoy. With food, beer, interactive activities and entertainment you have it all at this weekend long extravaganza. Put your glasses up and cheers to craft beers!