It can be said that Barcelona is well known for its architecture; between Gaudí and his Sagrada Família, to Església de Santa Maria del Mar, Barcelona is certainly not lacking in beautiful structures.  One of these said landmarks is the Arc de Triomf, a majestic arch that is welcoming any and all to the beautiful city of Barcelona.  Built for the Spain's first World's Fair in 1888 by architect Josep Vilaseca i Casanovas, this proud monument continues to stand at the entrance of Parc de la Ciutadella.
1888 Barcelona International Exhibition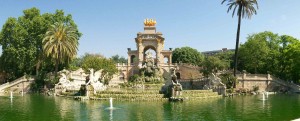 The world hasn't always had the communicative technology that we enjoy today, and often times it would be incredibly difficult to share knowledge between countries due to distance.  This need for communication brought about the idea of the World's Fairs, which first began in France at the Industrial Exposition of 1844 in Paris.  Through these fairs and expositions, countries worldwide would gather and share their cultures, technologies, and other parts of their country in an effort to promote intercultural sharing.  This is no different from what occurred at the Barcelona International Exhibition in 1888 at Parc de la Ciutadella, where over 2 million people from around the world visited the showcase.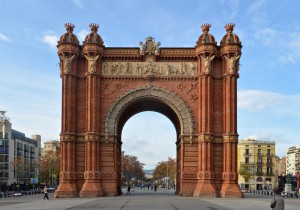 In 1886, Eugenio Serrano de Casanova attempted to launch an exposition for the World's Fair; however, it ultimately failed.  The mayor of Barcelona, Francesc Ruis i Taulet, then took over the planning of the project.  Once the site of the hated fortress created by Philip V of Spain, Parc de la Ciutadella was redesigned with the addition of sculptures and other works of art, and has stayed that way ever since. However, the new park also needed one more addition: a main access gate to such a marvelous event. This brought about Josep Vilaseca i Casanovas' Arc de Triomf, a gateway in both a literal and figurative sense.  Not only did the arc show the way to the fair, but also symbolized the end of Barcelona's provincial and unprogressive nature, and instead marked the beginning of a modern cosmopolitan city.  Built in reddish brickwork in the Neo-Mudéjar style, the Arc de Triomf is a memorial to times past and a promise to a better future for Barcelona.