As early as the seventh century, a close relationship between Africa and the Iberian peninsula was established, due to the influx of African monks fleeing to Spain. Jeff and Bruno, two charismatic African natives currently residing in Barcelona, have taken it upon themselves to celebrate this bond, and showcase the prime of African culture to the city's visitors and locals alike. With a 3,000 km distance between them whilst growing up in their respective countries, Angola and Ghana, their varied upbringing and unique take on the continent makes this African food & music experience all the more fascinating.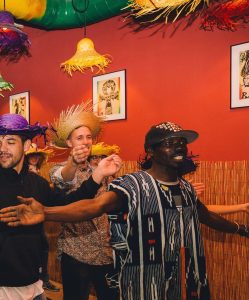 Following years of seeking a genuine African experience in the Catalan capital, the charming duo collaborated to create just that. Combining traditional cuisine, music and dance, Jeff and Bruno expose the exhilarating milieu of West African culture in a funky Afro-caribbean eatery – a hidden treasure on Barcelona's covert dining scene. This characterful venue, nestled away off the beaten track in El Raval, epitomises the laid back Caribbean vibe, with exceptional food, assisting staff and, most importantly, a space to show off your dance moves.
The evening kicks off with a live music and dance session, led by a jocular musical ensemble, originating from Senegal and Burkina Faso. Learn how to groove to the vibrant tribal dance, the 'jola', with your energetic dance teacher, Idryssa. He will teach you the dynamic and exuberant arm and body movements entailed, from foot stamping to hip gyrating. Whether you become a tribal dancing pro or simply energised from Idryssa's rhythmic moves and infectious personality, you can ensure an exciting and novel experience. Remember to bring your dancing shoes!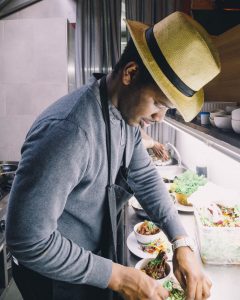 Chef Ocean draws inspiration from his hometown in Trinidad and Tobago, to devise a three-course menu comprising a fusion of West African and Caribbean fare. He personally introduces the group to each of his dishes, from his unusual avocado and cassava concoction to his delicately marinated peanut chicken and Barbados goat curry. Each course is carefully prepared with authentic ingredients and flavours that instantly transport you to an African feast or the Carribean coast.
The experience winds up with a concert performed by the legendary musical group and the spellbinding sounds of the kora. The gentle, soothing notes of this West African instrument are resemblant of the harp, or perhaps a more geographically appropriate comparison, the flamenco guitar. Let the mellow tunes lull you into an African dream, as you enjoy a deliciously fruity cocktail and soak up the atmospheric vibe.