Holidays and weekends away can be really expensive. Here is how to enjoy a free weekend in Barcelona, and see all this city has to offer even on a tight budget.  You can still have a jam-packed weekend and see many of the main attractions at no extra cost!
Friday
Parc Ciutadella
Parc Ciutadella is of the most appreciated and beautiful and biggest green spaces in central Barcelona (approx. 42 acres).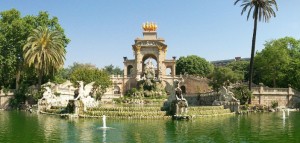 Just next to El Born neighbourhood and not far from the Port Vell and Barceloneta metro, the Parc is a great place for both tourists and popular with the locals too. Explore this on Friday morning and visit the fountains and small lake (where you can hire rowing boats for 3€ per person for half an hour). This is a great place to relax and soak up the morning/afternoon sun on the grass, as well as being a popular meeting point for locals to catch up or meet up for outdoor fitness classes and runs, and even tightrope practising! A fabulous place to spend a couple of hours people watching.

Born Cultural Centre
Just across the road from the Parc Ciutadella is El Born neighbourhood. One of most sought after, trendy and peaceful neighbourhoods, as much of the area is pedestrianised in Barcelona. The Born Cultural Centre makes a great quick stop where you can learn about the history of the neighbourhood and its old market ruins, which date back to the medieval period. While the new outer structure dates back to the 19th Century.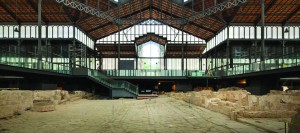 As well as informing its visitors about the area's history it also has a lot of information on Catalan heritage and tradition, and host many (free) cultural events.
As you wonder through the market you will find on the other side Passeig del Born, the central square and street of El Born, where there is an array of bars, cafes and the Santa del Mar Church overlooking the street from the other end. The streets are lined with boutique shops and many independent restaurants, making it a lovely neighbourhood to wander around and explore and a great lunch stop.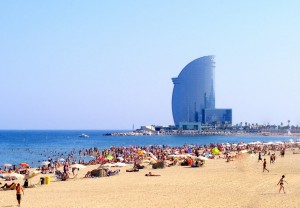 Beach
The beach is one of the best and free activities for any holiday in the sun! Stroll down to the beach for Friday afternoon after enjoying the sights of Parc and El Born. Not far El Born neighbourhood is Port Vell. The Port boasts some stunning and luxurious private yachts and boats, towards the end of the Port the beach is insight. A beautiful golden sand beach awaits any visitor. If it's tanning weather expect locals and tourists alike to be bathing on the sands with their towels and bikinis but if it's a little cooler it will still make a great couple of hours leisurely walking down the 4km beachfront soaking up the sun, sea air and sights.
Bunkers
One of the greatest views and vantage points over Barcelona to enjoy the sunset is on the Bunkers del Carmel. Ideal for a Friday night wind-down or before going out for drinks and partying! The old Civil War Bunkers have the perfect perspective of Barcelona, situated behind most of the city and facing East towards the sea.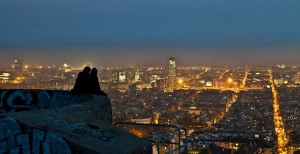 With sights of Montjuic and its castle, the beach and the iconic landmarks such as the Sagrada Familia, Mount Tibidabo and the Palace at Placa Espanya; almost everything in Barcelona is visible from here, making it an ideal lookout over the entire city… and unlike many rooftop views in Barcelona you it is free to visit!
Simply take the V17 bus to its end point and walk around 5 or 10 minutes up the hill to reach the Bunkers. Depending on where you take the bus it is quite a long journey but well worth it at the top. You can use your T-10 metro tickets (these can only be purchased from the metro ticket machines not on the bus – making the journey a 2€ trip return per person). If bought on the bus tickets are 2.15€ for a single.
To enjoy the views to the full many people take a picnic or something to drink to enjoy the ambience and sights, as there is nowhere to purchase anything nearby. The most beautiful but popular times of day to visit are sunset or sunrise.
Saturday
La Boqueria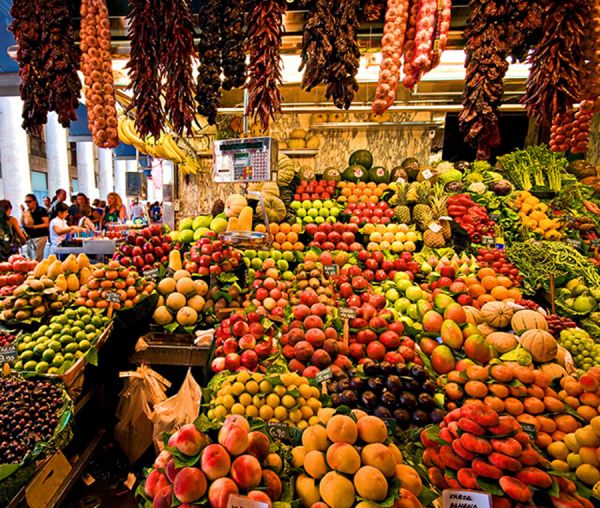 Begin Saturday by heading to La Boqueria, this is a must-see to any first time tourist in Barcelona. Mid-way down the infamous La Rambla is the city's most popular food market. Filled with fresh juices, produce, meats, fish and vegetables, marvel at the variety of food on offer. It's a great little stop to see the freshest and most beautiful food. As well as providing all the basic and exotic ingredients there are also stands selling ready to eat food such as seafood, pizzas, paella and these are some of the best places to find good, fresh and reasonable dishes – if you can find a space to sit and eat!
Montjuic parks and gardens
Saturday morning is a great time to explore Montjuic and all it has to offer.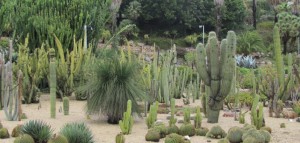 The mountainside is a wonderful area to escape and visit several of its parks and gardens. All of the parks are free to wander and discover some natural, native and non-native plants. The Cactus Park is also free, and entrance into the Botanical Garden is several euros. Feel truly immersed in nature here and like you've escaped the hustle and bustle of the lively city for a few hours.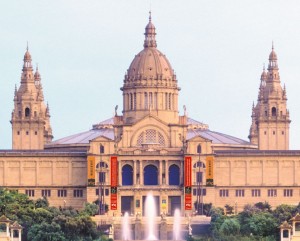 The Palace – The Museu Nacional d'Art de Catalunya (MNAC)
This wonderfully designed, beautiful building boasts stunning views outside and stunning artwork inside. Partway up Montjuic it is the perfect stop on your way back down from the sights, gardens and parks on the mountainside. Entrance is free from 3pm on every Saturday, which includes access to its roof terrace where you can walk around the Palace's roof. The gallery's artwork includes sculptures, paintings and engravings, to drawings and photography. Its emphasis is Catalan art but also there also Romanesque collections onwards.
Las Arenas (the former bullring) shopping centre also holds some wonderful views of the area and it is free any day of the week to walk around it's 360degree rooftop, which has an array of restaurants providing a variety of cuisines at a reasonable price. Access is free if you take the escalators inside but NOT if you take the lift outside.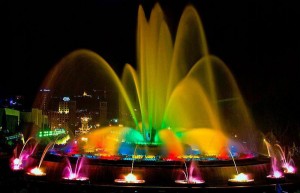 Font de Magica
Complete your Saturday evening by heading to the Poble Sec or Paral-lel area for some food, near Montjuic, roads such as Carrer de Blai for Spanish pintxos or Carrer de Parlament are filled with quirky and trendy bars and restaurants but without the price tag of some of the better known neighbourhoods. Finish the evening off by returning to Placa Espanya to watch the Magic Fountain (Font de Magica) water and light display outside the Palaca (MNAC), where lights and music bring the fountains alive. The displays are free and run regularly in spring, summer and autumn and last about half an hour.

Sunday

Poblenou graffiti
One of Barcelona's newest and most artistic hidden gems in the city is the graffiti in the Poblenou neighbourhood; an area of Barcelona that is filled with old warehouses and empty factories has been transformed by its exterior artwork. Local artists come here regularly to express their feelings through graffiti and large murals along the old factory walls and buildings. Many pieces have a political or social influence, while others are simply beautifully decorated. Ever changing, don't expect to turn up and see the same streets twice as these works are constantly being re-designed and re-drawn to reflect the changing world we live in.
Take the metro to Selva de Mar (L4 – yellow line) and wander down the street of Carrer de la Selva de Mar towards Gran Via. This is one of the main streets to see the work and just off its side streets. Once you approach Gran Via turn left and head towards Poble Nou metro via Parc del Centre del Poblenou to see other unused buildlings brought to life with their new lease of life as a canvas for the world. The whole trip should only take a few hours, exploring at a leisurely pace, leaving the rest of Sunday afternoon to see some of the main sites in Barcelona before heading home.

Churches
After strolling the streets of Poblenou in the morning spend early Sunday afternoon exploring a few of the beautiful churches Barcelona has dotted around its city centre.
Nearly everyone who has been or heard of Barcelona has also heard of its infamous la Sagrada Familia and Gothic Cathedral but there are a great variety of grand architecture and awe-inspiring churches that are truly impressive masterpieces. Discover some of the lesser-known churches (often referred to as Bascilia) in the local neighbourhoods to experience a new and more humble side of Barcelona's religious past and present. Stunning and serene, these churches are often away from mass tourism (even if they are tucked within the most sought after areas) and unlike the hype of La Sagrada Familia entrance is nearly always free!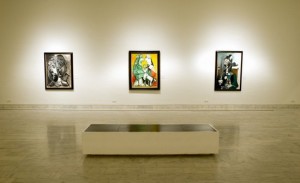 Free museums
To end your free and cultural Sunday visit one of the many museums, which have free entrance on Sunday afternoons from the Picasso museum to the Museum of World Cultures, the CCCB or the Science Museum. If you're in Barcelona on the first Sunday of the month then an even longer list of museums are open to the public for free, making it the ideal way to end your weekend in Barcelona.
(Note: In mid-May Barcelona hosts an annual free museum's night on the Saturday evening. This year's date is 21st May and includes more than 80 museums and cultural places opening for free. Many with live music, workshops and gastronomy. Find out more about the evening here.)
That completes a free weekend in Barcelona! Enjoy all of these sights and Barcelona life to fullest, all at no cost with this free weekend itinerary.