February. It's only the second month of the New Year and already all your resolutions have gone out the window, and the cold weather is getting you down. So, to get over those February blues, why not visit the beautiful city of Barcelona and discover some of its best kept secrets. Explore the city like a local by visiting typically non-touristy sites away from the crowds of photo-snapping tourists. So, here you have it, all the insider knowledge you could possibly need for a trip to Barcelona during February.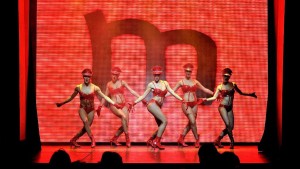 Showtime at El Molino (Carrer de Vila i Vilà, 99)
You don´t want to be cooped up on a glorious summer evening, so now's the time to enjoy a truly sensational cabaret experience. If you're feeling a bit alternative, and a flamenco show isn't quite up street (or go to both!), why not go for an early dinner in the nearby Raval district, followed by an evening of eroticism.
Up until 27th February, Barcelona's classic cabaret club is offering a truly unique experience of unforgettable, seductive and exciting moments for 24 Euros. They have been putting glitter and dazzle into their performances for more than a century now so you know you're in good hands and watching the best that Cabaret has to offer. Check website for show times.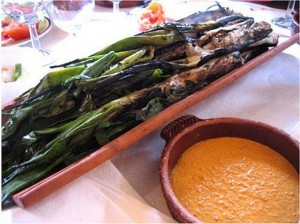 Seasonal Specialties
What's long like a leek, tastes like an onion, and is best eaten straight off a vine-leaf barbecue after a generous dip in home-made romesco sauce? Yes, calçots of course! Grown in the area surrounding Barcelona and Tarragona, it's no wonder they're one of the city's favourite vegetables. So pop on your bib (it can get very messy), grab a glass of wine, and tuck into this tasty Catalan dish! You´ll find that most Catalan restaurants around town serve them. Some of our favourite spots to enjoy this Catalan delicacy are Restaurant Carmen and Can Cortada.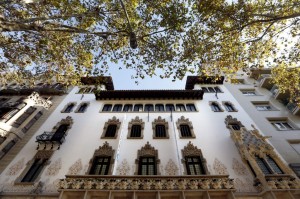 Palau Macaya (Passeig de Sant Joan, 108)
This fabulous Modernist palace was completed in 1901 and is now a cultural centre managed by the "La Caixa" foundation. This February, it will be hosting an exciting line up of events including free film screenings, exhibitions, seminars and debates. It may be surprising that a place of such magnificent beauty is kept under wraps, but this only means a peaceful atmosphere for you to soak up its surroundings.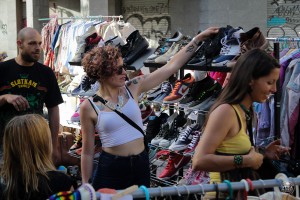 Flea Market (Plaça de Salvador Seguí)
One of Barcelona's greatest hidden gems. This month's flea market is carnival themed as it is officially carnival season, finally!  Here, people sell and swap second-hand goods such as clothes, accessories, books and music. It allows sellers to benefit by receiving something in exchange for their unwanted goods whilst shoppers can purchase items for a fraction of the cost if it were brand new. If you're looking for some new winter warmers to get you through the rest of the season, it is well worth popping down for a browse. After all, one man's garbage is another man's gold!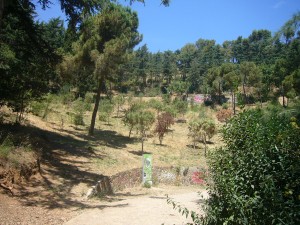 A Winter Walk through Parc del Guinardó (Calle Garriga i Roca, 1-13)
Barcelona has so many beautiful parks and gardens, so, what could be a better than perching on a bench with a good book on a gloriously sunny, crisp winter's afternoon. People, old and young, come here to enjoy its picturesque setting and magnificent beauty and to escape the hustle and bustle of the city. It perfectly combines the rustic nature of a forest with the sophistication of a well-kept garden. The park is divided into three parts: an urban area, a historical area and a part with the greenery of forest vegetation, for you to wander around in.