Many companies in Barcelona offer tours and comprehensive guides to the Gaudí buildings; however, you might agree that paying an excessive amount of euros and spending all day waiting around for a group of selfie snapping tourists is not the best way to enjoy some of Barcelona's best architecture. Here is a simple route you can walk to independently visit five of Gaudí's most famous buildings.
Start at La Sagrada Família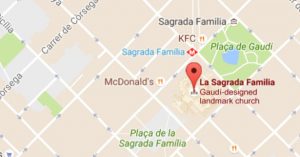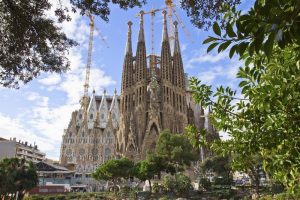 This can be reached on the L2 or L5. The building of La Sagrada Família commenced in 1882, and when its construction is finally completed it will feature 18 towers, each one dedicated to a different religious figure including Jesus Christ, Virgin Mary and the four evangelists. The central tower will measure 170 metres; 1 metre shorter than Montjuïc. Both inside and outside the building you will see impressive religious symbols disguised within the highly detailed sculpture work: the use of naturalistic imagery is a theme which can be admired in all of Gaudí's work.
Arguably Barcelona's most impressive and visited attraction, be prepared for a long queue!
Next, walk along to top of Passeig de Gràcia to see
Casa Milà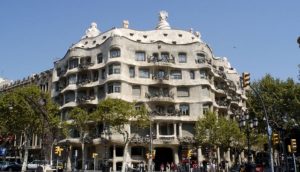 Also known as La Pedrera, Casa Milà was built for Pedro Milà and his wife between 1906 and 1912. The house consists of two structures built around a courtyard so that each of the nine floors may be lit by natural sunlight. Inside the house there is a lift which stops on every other floor and a car park in the basement. Visitors may visit the house either in the day or evening. You are able to explore several parts of the house, on which you will find various exhibitions and further information on Gaudí.
Amble down Passeig de Gràcia to
Casa Batlló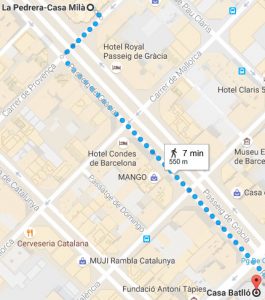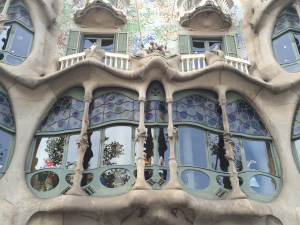 You may have to elbow a couple of tourists out the way to properly admire this beautiful building and take a photo. If you look at the roof, you may be able to make out the back of a dragon being pierced by the sword of Saint George, patron of Barcelona. The house has a skeletal quality to it, straight lines are impossible to find. There is also a clear marine influence used especially on the exterior of the house and Gaudí's characteristic religious imagery. The windows were built to allow an exact amount of sunlight into each room. Wander past the house at night, the colours of the mosaic exterior look even more exquisite when they're lit up! A summer evening program includes music and drinks from June 9th to September 24th.
Then, down and left to
Casa Calvet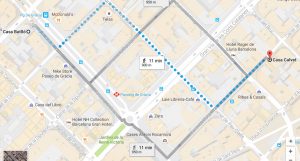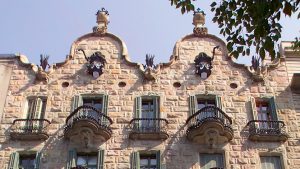 This is one of Gaudí's earliest buildings, often said to be the most conservative. The house has a very symmetrical design and from the exterior it is only really the curved balconies that give the building away as being a work of Gaudí. Visitors may admire the building from the outside or visit the restaurant, located on the ground floor which serves 'contemporary Mediterranean cuisine'.
Finishing off at
Palau Güell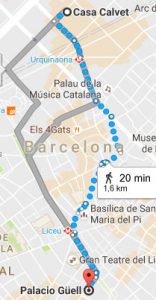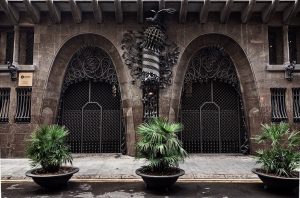 Made a quick detour into La Boquería market which you will pass on your right if you walk down La Rambla. Watch out not to miss the turning to this gothic mansion with its huge iron gates. The basement was built to keep horses in but after the civil war it was occupied by the police who used it as a jail for political prisoners. If you decide to enter into this building,  the audio guide is well worth taking for the immense detail it provides.