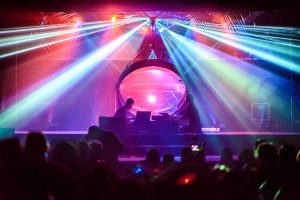 Sónar and Sónar+D brings a constellation of stars to Barcelona from the 13th-16th June. This unique experience of contemporary music, creativity and technology has an epic line-up packed with pioneering performances and presentations. The latest offerings from the electronic audio-visual art community and the constantly evolving digital economy are represented in this cutting edge showcase which this year extends to other venues around town for the whole week.
Sónar Day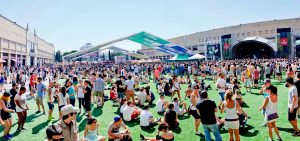 The stages of Sónar Day welcome some of the most interesting artists of the moment. Rainforest Spiritual Enslavement (SonarDome, Thur 14th, 17:35), offer a dark and ritualistic techno distortion of nature sounds inspired by the landscape of Papua New Guinea. Laurent Garnier (SonarVillage, Thur 14th, 22:00 ) needs no introduction. A special one-off day set provides a retrospective of his career behind the decks, from his very first songs to the most recent, remixes, solo and joint productions. Chino Amobi (Sonar XS, Fri 15th 18:45) presents "Paradiso", a strange and abrasive album which Wire magazine considered the best release of 2017. This show is tipped to be one of Sónar by Day's most intense experiences. Get ready to dance with Jamz Supernova (SonarVillage, Fri 15th, 16:00). Her dynamic soundscape spans the entire party spectrum, from kuduro to future R&B, through to dancehall, bass house, hip-hop and beyond.
Sónar Night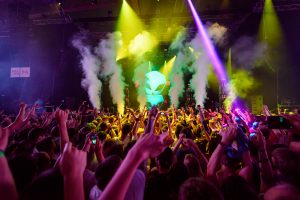 Cranking up the volume, exponentially multiplying the visual effects and creating an über rave ambience, Sónar Night introduces strong headliners and a quality line-up in its various spaces. Friday night will be dominated by lives sets from Bonobo (SonarClub, 01:20), Helena Hauff (Sonar Pub, 05:00) delivering a masterful fusion of electronic styles, and a climactic session by Miss Kittin & Kim Ann Foxman (SonarLab, 05:00), with DJ Harvey taking care of the SonarCar zone with a 6 hour live set.  Saturday night's superstars include Richie Hawtin (SonarClub, 04:25), LCD Soundsystem (SonarClub, 22:00), and a live mix set by Thom Yorke with Nigel Godrich and Tarik Barrit (SonarClub, Sat 16th, 01:40), to name just a few.
Sónar+D
Sónar+D opens on Wednesday with a packed agenda of interdisciplinary conferences and showcases that present a global snapshot of creativity and technology, and the digital transformation of the cultural industries involved. The AV Experiences section includes a strong presence of Virtual Reality projects. Richie Hawtin presents "Close", a notable tech show, challenging the fine line between a conventional DJ set and a live performance, using machines and software. One of the most futuristic proposals comes from the Zero Gravity Band who research and design materials to create arts and music in zero gravity. Also at Sónar+D, The MarketLab and Start-Up Garden offer networking opportunities for professionals, and conference talks and workshop open to everyone.
Check out the full line-ups and snap up your tickets.